This photo shows Jane Fonda with about 12-13 Vietnamese, probably the regular gun crew surrounded by photographers and reporters and bystanders from the People's Army of Vietnam. Three bystanders are in civilian dress. The photograph was taken during Fonda's trip to Vietnam with Tom Hayden. During her visit Fonda spoke on Radio Hanoi and American POW were forced to listen. Fonda and Hayden married and had one child, Troi (the actor Troy Garrity) named after a Vietnamese.
In her book, "My Life So Far," Fonda captions the same scene in an AP/Wide World photo with; "I am standing next to the antiaircraft gun, singing a Vietnamese song back to the soldiers right before I sit in the gun's seat."
Jane Fonda, while addressing a roundtable sponsored by the U.N. Population Fund, April 15, 1998


"It's what makes working in Georgia very interesting, because we are, in some ways, like some developing countries. -- "There is a lot of rural poverty. In the northern part of Georgia, children are starving to death. People live in tar-paper shacks with no indoor plumbing, and so forth. -- "I love Georgia. I'm proud to be living there, and that's the truth...But we have very special problems"
The Apology?
In 1988, some 16 years after her 1972 tour of Hanoi when she made her famous radio broadcast and had her picture taken behind the same anti- aircraft guns that were shooting down US pilots, Jane Fonda appeared on 20/20 and was interviewed by Barbara Walters.

Two versions of this interview exist, one an actual transcript, the other a press release.
The transcript reads:
Barbara Walters: "There are still people who . . . I guess feel you have never apologized.Would you like to just say something to them now?"
Jane Fonda: "Well . . . it's not . . . I would like to say something not just to . . . the Vietnam veterans . . . in New England . . . but . . . to . . . to men who were in Vietnam who . . . who I hurt . . . or who's pain I caused to . . . deepen because of things I said . . . or did . . . I . . . I feel that I owe them an apology . . . my intentions were never to hurt them . . . or to make their situation worse, it was . . . it was the contrary . . . I was trying to help end the war . . . but there were times when I was thoughtless and careless about it and I . . . and I am very sorry . . . that I hurt them . . . and I want to apologize to them and to their families . . . ."
This was released to the media as:
I would like to say something, not just to Vietnam veterans in New England, but to men who were in Vietnam, who I hurt, or whose pain I caused to deepen because of things that I said or did," Fonda said.
"I was trying to help end the killing and the war, but there were times when I was thoughtless and careless about it and I'm . . . very sorry that I hurt them. And I want to apologize to them and their families."
In both versions, there is a direct reference to the veterans in New England and this points to the reason for the timing of the apology.
At the time, Fonda was filming "Stanley and Iris" on location in a number of blue-collar New England towns. Production on the movie was being severely disrupted by protesting veterans and this was causing a serious problem for the film. Fonda decided that something had to be done, so she went on 20/20.
The difficulty still remaining for many vets is the nagging doubts about the apology. Was it a sincere effort to atone for a now recognized hurt, or was it merely a cynical attempt to solve crippling production delays? The timing of the apology allows for the inference of a self-serving motivation. Ms. Fonda had 16 years to consider the results of her actions. On the other hand, perhaps the protests themselves made her more aware of how deeply many veterans resented her actions in 1972.
Only Jane Fonda knows for sure.
ACROSS AMERICA HONORING A TRAITOR: This is for all the kids born in the 70's that do not remember this, and didn't have to bear the burden, that our fathers, mothers, and older brothers and sisters had to bear. Jane Fonda is being honored as one of the "100 Women of the Century." Unfortunately, many have forgotten and still countless others have never known how Ms. Fonda betrayed not only the idea of our country but specific men who served and sacrificed during Vietnam.
This does not exemplify someone who should be honored as part of "100 Years of Great Women." Lest we forget..."100 years of great women" should never include a traitor whose hands are covered with the blood of so many patriots. There are few things I have strong visceral reactions to, but Hanoi Jane's participation in blatant treason, is one of them.
Please take the time to forward to as many people as you possibly can. It will eventually end up on her computer and she needs to know that we will never forget.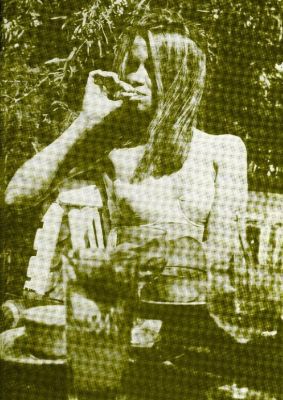 Jane Fonda and a fat cigarette at St. Tropez, 1964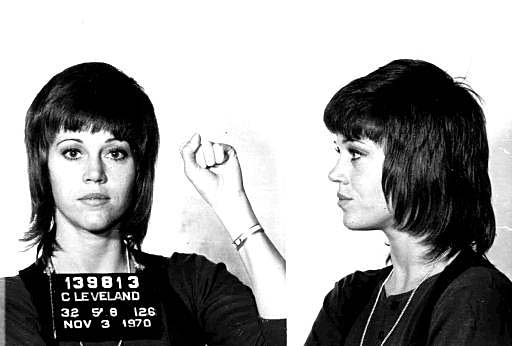 Jane Fonda mug shot Nov. 3, 1970 Jane was arrested in November 1970
at Cleveland Airport for drug smuggling and disturbing the peace.
Charges later dismissed. Diet pills? Vitamins? Dope?
Read Jane Fonda's Famous Speech as Broadcast by Radio Hanoi