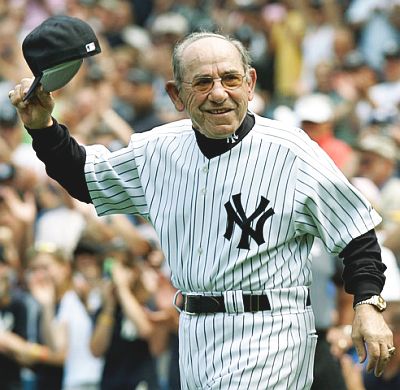 Lawrence Peter "Yogi" Berra May 12, 1925 - September 22, 2015


Yogi Berra Quotes



It was impossible to get a conversation going, everybody was talking too much.

You got to be careful if you don't know where you're going, because you might not get there.

It's pretty far, but it doesn't seem like it.

The other teams could make trouble for us if they win

On the marriage of Joe DiMaggio and Marilyn Monroe - I don't know if it's good for baseball, but it sure beats the hell out of rooming with Phil Rizzuto

When you come to a fork in the road, take it.

It's never happened in the World Series competition, and it still hasn't.

Think! How the hell are you gonna think and hit at the same time?

Yogi's wife Carmen asked, "Yogi, you are from St. Louis, we live in New Jersey, and you played ball in New York. If you go before I do, where would you like me to have you buried?" Yogi replied, "Surprise me."

About Coach Bill Dickey - "He's learning me his experience."

I always thought that record would stand until it was broken.

I knew I was going to take the wrong train, so I left early.

On why NY lost the 1960 series to Pittsburgh " We made to many wrong mistakes".

On his plans for the '64 World Series- "It ain't like football. You can't make up no trick plays."

Yogi on the 1969 NY Mets....." overwhelming underdogs".

Nobody goes there anymore...it's too crowded!

Never answer an anonymous letter.

I usually take a two hour nap from one to four.

Always go to other people's funerals, otherwise they won't come to yours.

Pitching always beats batting -- and vice-versa.

When asked what time is was......" you mean now?".

The future ain't what it used to be.

Baseball is 90 percent mental and the other half is physical.

It gets late early out here.

It's hard to make predictions, especially about the future.

Slump ? I ain't in no slump. I just ain't hittin.

If people aren't gonna come out to the ballpark, who's gonna stop 'em?

It ain't over till it's over.

You better cut the pizza in four pieces because I'm not hungry enough to eat six.

I couldn't tell if the streaker was a man or a woman because it had a bag on it's head.

It's like deja vu all over again.

We have deep depth.

If the world were perfect, it wouldn't be.

Mrs. Lindsay to Yogi - "You certainly look cool." - Yogi to Mrs Lindsay - "Thanks, you don't look so hot yourself."

If you can't imitate him, don't copy him.

It gets late early out here.

You can observe a lot just by watchin'.

At Yogi Berra day in St Louis 1947 " I want to thank you for making this day necessary".

I didn't really say everything I said.




Nation Visitors Since March 8, 2013