O


davidstuff.com
Arizona Selected Geographical Facts



The 13 rays of red and gold on the top half of the flag represent both the 13 original colonies of the Union, and the rays of the Western setting sun.

Red and gold were also the colors carried by Coronado's Spanish expedition in search of the Seven Cities of Cibola in 1540. The bottom half of the flag has the same Liberty blue as the United States flag.

Since Arizona was the largest producer of copper in the nation, a copper star was placed in the flag's center. Flag was adopted 1917.
Arizona was the last of the contiguous 48 states to enter the United States of America. The date of admission was February 14, 1912

Arizona is the 6th largest state with 113,628 square miles

Arizona is the 18th most populous state with 5,944,351 persons

Arizona is approximately 400 miles long and 310 miles wide

Arizona is the largest US landlocked state by population

The Mean elevation of Arizona is 4,100 feet above sea level

The Highest elevation is Humphreys Peak,
8 miles North of Flagstaff at 12,643 feet

The lowest elevation is the Colorado River in the
SW corner of the state below Parker Dam at 70 feet

The elevation of Phoenix is approximately 1,050 feet

The Hopi, direct descendants of the San Juan Anasazi,
have occupied their lands in NE Arizona since 6,000 BC.

Oraibi, located 90 miles NE of Flagstaff, has been continuously occupied since 500 AD making it the oldest documented settlement in the United States.

Average annual rainfall exceeds 30" in the mountain areas to less than 7" in the Western deserts

Monthly average temperatures range from a high of 105.0 degrees to a low of 38.1 degrees

The highest temperature recorded in Arizona is 128°F recorded on June 29, 1994 at Lake Havasu

The lowest temperature recorded in Arizona is -40°F recorded on January 7, 1971 at Hawley Lake.

Arizona Highway Map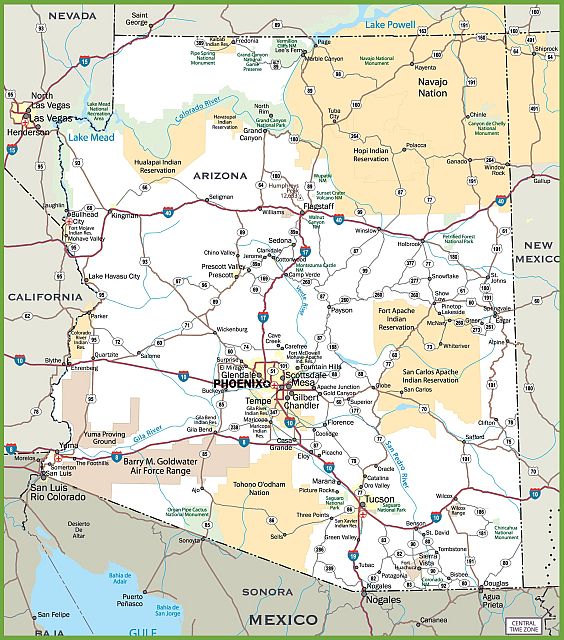 Click for a 900 x 1021 Image
Click for a 1800 x 2041 Image
Arizona Counties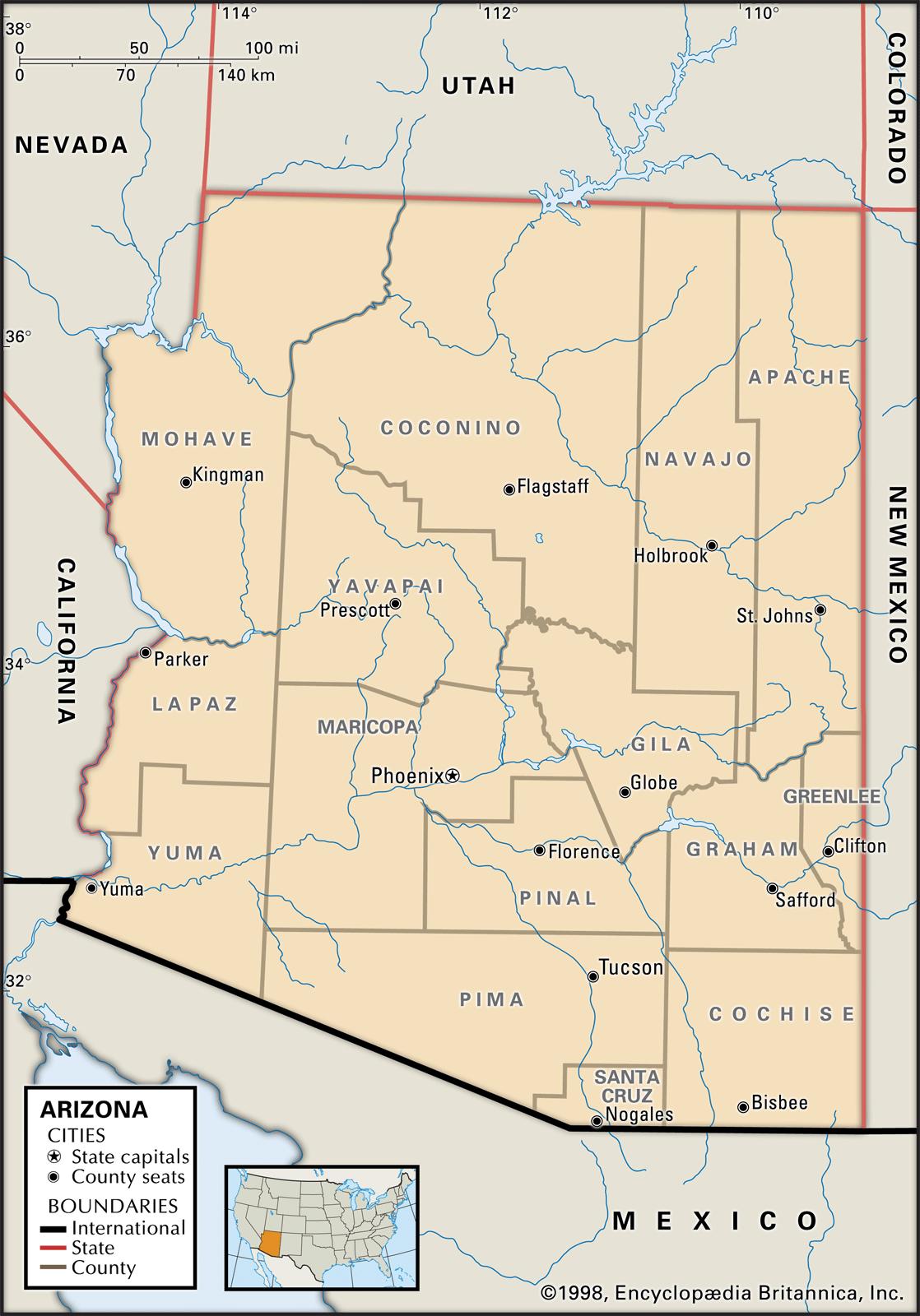 Arizona contains 15 counties with North Central Coconino
being the largest at 18,608 square miles
and South Central Santa Cruz
at 1,238 square miles being the smallest.

Coconino with 18,617 square miles is the largest county in Arizona and the 2nd largest county in the U.S.A.


(The largest county is San Bernardino in SE California




with 20,160 square miles)



Maricopa county, home of Phoenix, and Arizona's 6th largest county is nonetheless larger than the following states:

Rhode Island - 1,096
Delaware - 1,955
Connecticut - 4,845
Hawaii - 6,423
New Jersey - 7,468
Massachusetts - 7,826
New Hampshire - 8,995



Maricopa County - 9,226



Vermont - 9,267
Maryland - 9,836
Arizona Counties and Population *

COUNTY

SQ MILES

POPULATION

SEAT

POPULATION

Apache

11,204

71,474

St. Johns

3,483

Cochise

6,169

126,427

Bisbee

5,208

Coconino

18,617

139,097

Flagstaff

70,320

Gila

4,767

53,159

Globe

7,396

Graham

4,629

37,666
Safford

9,683

Greenlee

1,847

9,529

Clifton

3,685

La Paz

4,499

20,152

Parker

3,046

Maricopa

9,203

4,167,947

Phoenix

1,563,025

Mohave

13,311

204,737

Kingman

28,912

Navajo

9,953

108,277

Holbrook

5,019

Pima

9,168

1,010,025

Tucson

531,641

Pinal

5,369

406,584

Florence

31,110

Santa Cruz

1,237

46,461

Nogales

20,252

Yavapai

8,123

222,255

Prescott

41,899

Yuma

5,514

204,275

Yuma

94,139




---

113,628


---

6,828,065
Arizona Cities and Phoenix Metropolitan Area
LARGEST CITY

RANK

POPULATION

PHOENIX METROPOLITAN AREA

CITY

RANK

POPULATION

Phoenix

1

1,563,025


Phoenix

1

1,563,025

Tucson

2

531,641



Mesa

2

471,825
Mesa

3

471,825



Chandler

3

260,828
Chandler
4

260,828



Gilbert
4

247,542

Gilbert
5

247,542



Glendale
5

240,126
Glendale
6

240,126


Scottsdale
6

236,839

Scottsdale
7

236,839



Tempe

7

175,826

Tempe

8

175,826



Peoria

8

171,237

Peoria

9

171,237


Surprise

9

128,422

Surprise
10

128,422



Avondale

10

80,684

Yuma
11

94,139



Goodyear

11

79,003

San Tan Valley

12

87,923



Buckeye

12

62,138

Avondale

13

80,684


Sun City

13

39,111

Goodyear

14

79,003



Apache Junction
14

38,074
Flagstaff

15

70,320



Queen Creek
15

34,614

Casas Adobes

16

68,862



El Mirage
16

33,935

Buckeye
17

62,138



Sun CityWest
17

24,338

Lake Havasu City
18

53,553



Fountain Hills

18

23,899

Casa Grande
19

51,460


Paradise Valley
19

13,922
Catalina Foothills

20

50,940



Gold Canyon

20

9,597

Maricopa

21

48,602



Tolleson

21

7,008

Oro Valley
22

43,565



Youngtown

22

6,613

Sierra Vista

23

43,355



Guadalupe

23

6,177

Prescott Valley

24

42,197



Litchfield Park

24

5,533

Prescott

25

41,899



Cave Creek

25

5,341

Marana

26

41,315



Carefree

26
3,610
Bullhead City

27

39,445



Sun City

28

39,111



Apache Junction

29

38,074



Queen Creek

30

34,614
















---

3,974,282






Pictures of Arizona

(Click on image for larger view)



Monument Valley

Monument Valley


North Rim Grand Canyon

Ponderosa Pine Forest
http://www.davidstuff.com/geo/arizona.htm
Paria Canyon Arizona

Paria Canyon Arizona

Phoenix Arizona

Central Avenue Phoenix

Horseshoe Bend Arizona

Canyon de Chelly Whitehouse

Glen Canyon Lake Powell

Hoover Dam
Nation Visitors Since March 8, 2013